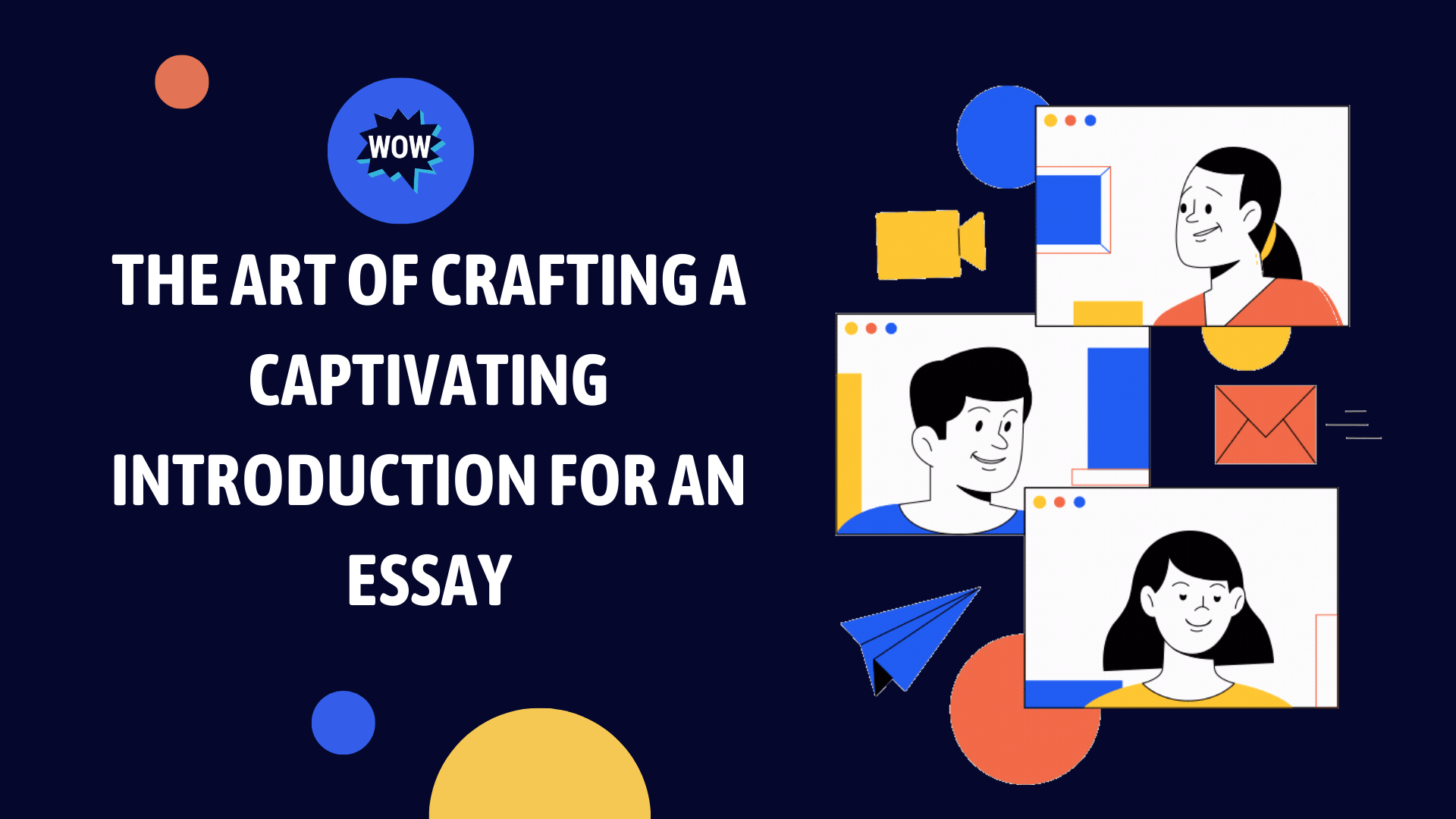 If you want to write an essay that impresses your marker, you need a compelling introduction. It is where you demonstrate your grasp of the subject matter and use of evidence.
Be sure to avoid cliched hooks like dictionary definitions. Instead, use vivid descriptions to bring your topic to life and draw readers in.
Introduce the Topic
Your introduction is your first impression of the readers of your essay. If it's vague, disorganized, and full of errors, you might leave them with a bad impression about your arguments, writing style, and essay quality.
Using intriguing ideas in your essay is an effective way to grab readers' attention. These could include interesting facts, statistics, examples from history or literature, and quotes. You could also use personal anecdotes to engage your audience. However, avoid using fluff or filler words that don't add anything to your essay. Good topic for your inspiration:
Present an Intriguing Idea
A captivating introduction makes readers want to keep reading. It can be done with vivid language, stirring examples, or intriguing quotations.
The introduction should provide brief signposts of what information will be included in the body paragraphs, but avoid repeating what will be presented in the essay's topic sentence. Avoid using filler words and fluff in your introduction, which can take up space that could be used for more important ideas.
A good way to do this is by using foreshadowing, where you drop hints of what will happen in your essay. It will make your essay more engaging for your readers.
Introduce Your Thesis Statement
After getting your reader's attention with a hook, you must provide background information on your topic. It could include a definition, a brief history, or other information to help your reader understand your essay's argument.
Your introduction also needs to include your thesis statement, which is the overarching argument that your essay will make. This is typically one sentence or two in length, and it should clearly state your point of view on the topic.
Start With a Question
Your essay's introduction gives your readers their first impressions of your argument and writing style. A lengthy, repetitive, or boring introduction will leave them with a negative impression of your work, while a concise and engaging one will make them excited to read the rest of your paper.
A great way to engage your audience is to start with a question. This will require them to think about your topic and connect them with it immediately. Then, you can move on to more details and facts about your essay.
Give a personal experience
Your introduction sets the tone for the entire essay. It should contain a clear thesis statement and brief signposts for what information will be included in the body paragraphs.
A captivating essay introduction can make a positive impression on your readers and help them appreciate your analytical skills and writing style. It should also inspire them to learn more about the topic you're presenting. Ultimately, it should give the reader a moral lesson or a revelation of a deeper truth.
Include a quote or anecdote
A well-written introduction can help your readers understand the direction of your argument, writing style, and essay as a whole. On the other hand, a confusing, vague, off-the-wall, or error-filled intro can create a negative impression on your reader.
Craft essays also often reflect on the author's writing process, struggles, or inspirations. This helps add a subjective element to the essay and can be very appealing to readers. This may be achieved through personifications, metaphors, or similes.
Include a relevant story
Stories can be a great way to capture readers' attention. They can be related to personal experiences, quotes from experts in the field, or even historical events.
Regardless of which strategies are used, the most important thing is to engage your readers. By grabbing their attention early on, you can keep them interested in your essay from start to finish. Moreover, it allows your ideas to flow more smoothly from paragraph-to-paragraph and section to section. This helps to make your essays more persuasive and easier to read.
Include a hook
An effective introduction offers background information to give readers a road map of how you will answer the essay question. However, a good introduction does not include dictionary definitions or other basic facts that are already familiar to the reader.
Instead, it includes a relevant query, joke, or interesting fact that can help pique the reader's interest and then bridge to your topic's overall purpose. This helps pique the reader's interest and maintain their engagement throughout your essay.
WowEssays Popular Essay Example
Increasing Surplus Product in an Economic System Essays Example
Ways of Increasing Surplus Product in an Economic System There are several approaches to increasing surplus products in an economy. The first approach is consuming less and saving more. If the government and households minimize consumption, there would be a rise in savings. Savings has been ascertained to fund global investments (Chen et al., 2017). Likewise, imports would reduce, and minimal borrowing will be required to support consumption. Therefore, an increase in savings will be used to fund the production of surplus products. Secondly, an increase in surplus products can be achieved by the depreciation of the currency …
Continue reading
Type of paper:Essay
Pages: 3
Words: 753
Good Essay On Alice Walker and Amy Tan
Aggressive Daughters Contrary to classical times, today's family tenets have significantly changed, especially the relationships between parents and their children. While the past involved absolute and unquestioned respect for parents by children, today's generation is increasingly becoming less obedient and more rebellious. It is the case with Alice Walker's Everyday Use and Amy Tan's Two Kinds. Walker's story describes an interaction among rural-based African American Johnson's family members. Dee, also called Wangero, the only formerly educated member of this family, demonstrates to her mother and younger sister, Maggy, the transformations …
Continue reading
Type of paper:Essay
Pages: 5
Words: 1177