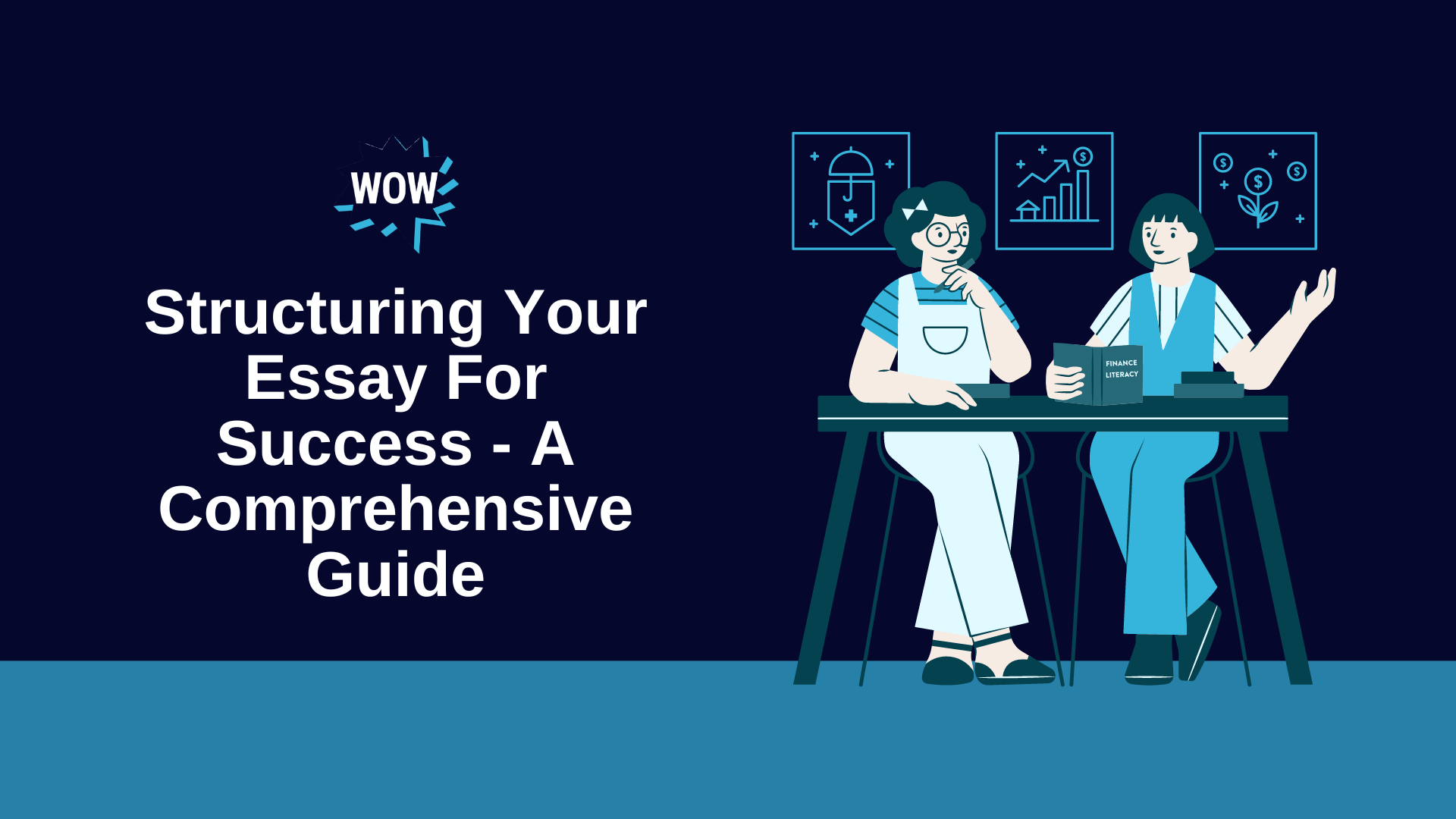 There is no doubt that structuring an essay effectively is an essential skill for students to master. These resources guide how to develop a focused, well-organized essay and demonstrate a clear argument.
A good essay structure will involve several self-contained paragraphs, each with its main point and an explicit link to the essay question and your developing argument.
Introduction
As you sift through your research and prewriting activities, patterns may emerge, and the connections between your ideas will become clearer. To transform these raw insights into a meaningful and convincing argument, you need an effective way of organizing your thoughts. An outline is a useful tool for doing this, and it will provide the "skeleton" of your essay, and you can add the "flesh and muscle" of your paragraphs.
The introduction is the first part of your essay that an examiner will read and sets out your assignment's aims. It also acts as a signpost for the rest of your essay, outlining what you will explore in each section and how it links to your overall argument.
Each of your paragraphs should also have a distinct purpose and, like the introduction, begin with a signpost sentence that indicates what point you are exploring. This allows the examiner to see clearly how your argument develops and ensures that each paragraph contributes to answering the question. Example essay with good introduction:
Body
Once you've collected and analyzed all the information for your essay, you're ready to begin organizing it. This step is crucial for an effective essay. You can organize your ideas by subject or by paragraphs. Each topic or main point should have its paragraph.
Each paragraph should start with a signpost sentence, which will clearly state the main idea you will explore in that section. This makes the examiner aware of what you will cover and how it will relate to the other topics covered in the essay.
If you prefer to create a diagram of your ideas, write your topic in the middle of the page and draw lines branching off from it with your main points written on each line. You can then fill the rest of the space with smaller ideas connecting to each main point. This will help you better understand the connections between your ideas and how they all relate to your argument.
Conclusion
The conclusion sums up your argument, bringing together your key points coherently. It should include a few minor pieces of new information (such as a brief discussion of broader implications or a quotation that reinforces your point) but not introduce any major ideas that haven't already been discussed in the essay.
When you have a clear idea of the structure of your essay, writing it should be much easier. During prewriting activities, it's a good idea to make a mind map of your ideas – especially for essays that require extensive reading – as this will help you to see connections between the various bits of knowledge you have gathered. It will also help you to structure your essay according to a reader's logic: anticipate what the reader might need to know next, then deliver it in a sequence that makes sense.
References
Providing clear, well-structured references is vital to academic writing. They help readers find what they need and show that you have consulted various sources. In addition, they can act as an at-a-glance guide to the key points and issues that you have encountered in your reading and research.
The introduction of an essay serves to signpost the reader what they can expect from your assignment, as well as giving a brief outline of your argument. It also demonstrates that you have a significant understanding of the question and the methods you intend to use.
A good way to determine how you will structure your essay is to draw up a plan. This could be a mind map, a diagram, or even a list of bullet points. You will probably not have time to produce a detailed plan under exam conditions, but a basic one will help you stay focused and on track as you write.
WowEssays Popular Essay Example
Increasing Surplus Product in an Economic System Essays Example
Ways of Increasing Surplus Product in an Economic System There are several approaches to increasing surplus products in an economy. The first approach is consuming less and saving more. If the government and households minimize consumption, there would be a rise in savings. Savings has been ascertained to fund global investments (Chen et al., 2017). Likewise, imports would reduce, and minimal borrowing will be required to support consumption. Therefore, an increase in savings will be used to fund the production of surplus products. Secondly, an increase in surplus products can be achieved by the depreciation of the currency …
Continue reading
Type of paper:Essay
Pages: 3
Words: 753
Good Essay On Alice Walker and Amy Tan
Aggressive Daughters Contrary to classical times, today's family tenets have significantly changed, especially the relationships between parents and their children. While the past involved absolute and unquestioned respect for parents by children, today's generation is increasingly becoming less obedient and more rebellious. It is the case with Alice Walker's Everyday Use and Amy Tan's Two Kinds. Walker's story describes an interaction among rural-based African American Johnson's family members. Dee, also called Wangero, the only formerly educated member of this family, demonstrates to her mother and younger sister, Maggy, the transformations …
Continue reading
Type of paper:Essay
Pages: 5
Words: 1177