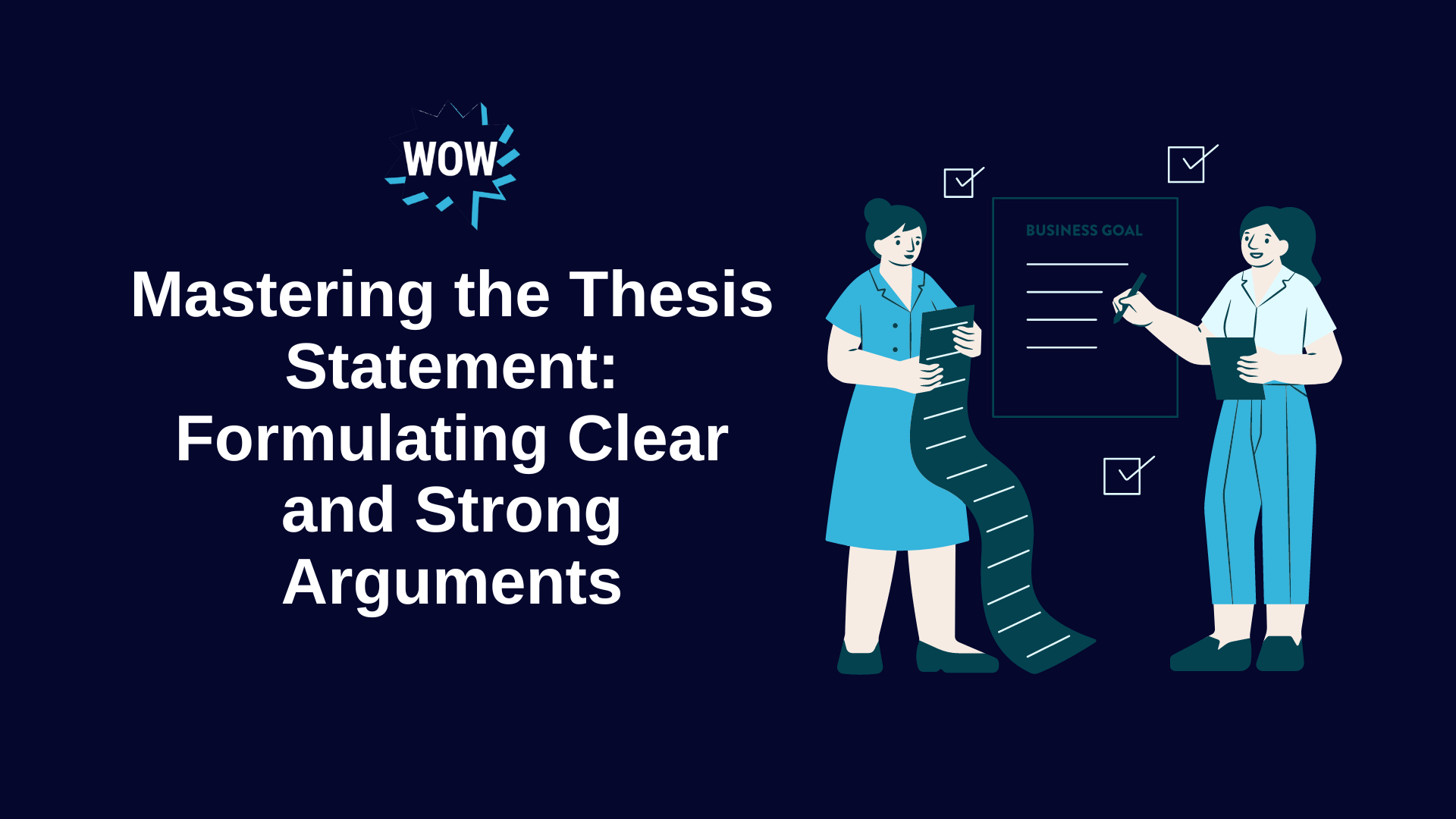 A thesis statement is the central argument that guides your essay. Ideally, it should be clear and specific.
It should appear by the end of your introductory paragraph. It sums up your entire argument or the key aspect of a topic you will explain, such as the positive social effects of surveillance or the importance of the invention of braille.
Start with a Strong Statement
When working out a thesis statement, thinking about the kind of paper you're writing can be helpful. For example, argumentative papers generally involve a basic claim such as "Vaccination for measles should be compulsory." Expository papers might consider the effects of government policies on college tuition, or analytical papers might explore how Shakespeare uses the play within a play in Hamlet.
This will help you narrow down your research and develop a precise statement that can be argued against. It also helps you think about your audience because a dogmatic or unhinged argument may not stand up to scrutiny for people who disagree with you.
If you're still unsure how to formulate your statement, try writing out your argument in full. You might be surprised at how much clarity it gives you. It's important to remember that a thesis statement is the first part of your essay that readers will see, so it needs to be clearly stated and compel them to read on. To write a Thesis Statement, you need to start by practicing writing essays, examples of which can be found below:
Include a Thesis Statement
A thesis statement is a short sentence that summarizes the main argument you will make in your essay or research paper. Typically, it appears at the end of your introductory paragraph(s), though you can place it elsewhere in your writing. A thesis statement helps control your ideas so you don't wander too far from your main point. It also makes it easier for your readers to find the main point, especially if they look at multiple papers on your topic.
A strong thesis statement is nuanced, recognizing the existence of an opposing viewpoint while firmly asserting your claim. For example, an ineffective thesis would be "Communism collapsed for political, economic, social and cultural reasons."
If your assignment doesn't require you to take a stand on a particular subject, you can still generate a strong thesis by identifying a question you want to answer. For example, if you're writing a compare-and-contrast paper, you might write your thesis statement: "American elementary school students consume nine times the recommended amount of sugar." This is your topic and should guide your discussions throughout the paper.
Refine Your Thesis Statement
Often, your initial ideas about the topic will need to be refined. For instance, if your working thesis was that children are eating too much sugar, you may find that your research suggests you should focus on how schools promote soda consumption as an incentive to boost students' achievement.
This process will also help you to avoid overreaching in your arguments. It's important to remain aware that your audience may not share your views, and you want your paper to be able to stand up against other points of view.
For example, suppose you were arguing that the lack of arts programs in public schools is one of the reasons students fail to perform at the level required by their courses. In that case, you might need to refine your argument to explain how the emphasis on standardized testing and funding is also an issue. By doing this, you can ensure that your paper is based on solid evidence, is clear, concise, and focuses on the right arguments.
Make Your Thesis Statement Relevant
It's easy to veer off-topic in an essay. You'll need to keep your thesis statement relevant and up-to-date as you jot down ideas, conduct research, and revise your writing.
Consider your audience when constructing your thesis. For example, if you use a religious or moral argument in your paper, it may not hold up for readers outside that group.
For instance, if your paper explores the causes of youth violence, you could write an effective thesis statement by arguing that poor parenting and easy access to guns are contributory factors rather than suggesting that young people are inherently violent.
A strong thesis statement can strengthen your essay and make the rest of your research and writing more productive. It demonstrates your ability to examine and organize ideas into a coherent argument and shows that you can persuasively mobilize evidence supporting your central point. It's a skill you'll need throughout your academic career and professional and personal life.
WowEssays Popular Essay Example
Increasing Surplus Product in an Economic System Essays Example
Ways of Increasing Surplus Product in an Economic System There are several approaches to increasing surplus products in an economy. The first approach is consuming less and saving more. If the government and households minimize consumption, there would be a rise in savings. Savings has been ascertained to fund global investments (Chen et al., 2017). Likewise, imports would reduce, and minimal borrowing will be required to support consumption. Therefore, an increase in savings will be used to fund the production of surplus products. Secondly, an increase in surplus products can be achieved by the depreciation of the currency …
Continue reading
Type of paper:Essay
Pages: 3
Words: 753
Good Essay On Alice Walker and Amy Tan
Aggressive Daughters Contrary to classical times, today's family tenets have significantly changed, especially the relationships between parents and their children. While the past involved absolute and unquestioned respect for parents by children, today's generation is increasingly becoming less obedient and more rebellious. It is the case with Alice Walker's Everyday Use and Amy Tan's Two Kinds. Walker's story describes an interaction among rural-based African American Johnson's family members. Dee, also called Wangero, the only formerly educated member of this family, demonstrates to her mother and younger sister, Maggy, the transformations …
Continue reading
Type of paper:Essay
Pages: 5
Words: 1177