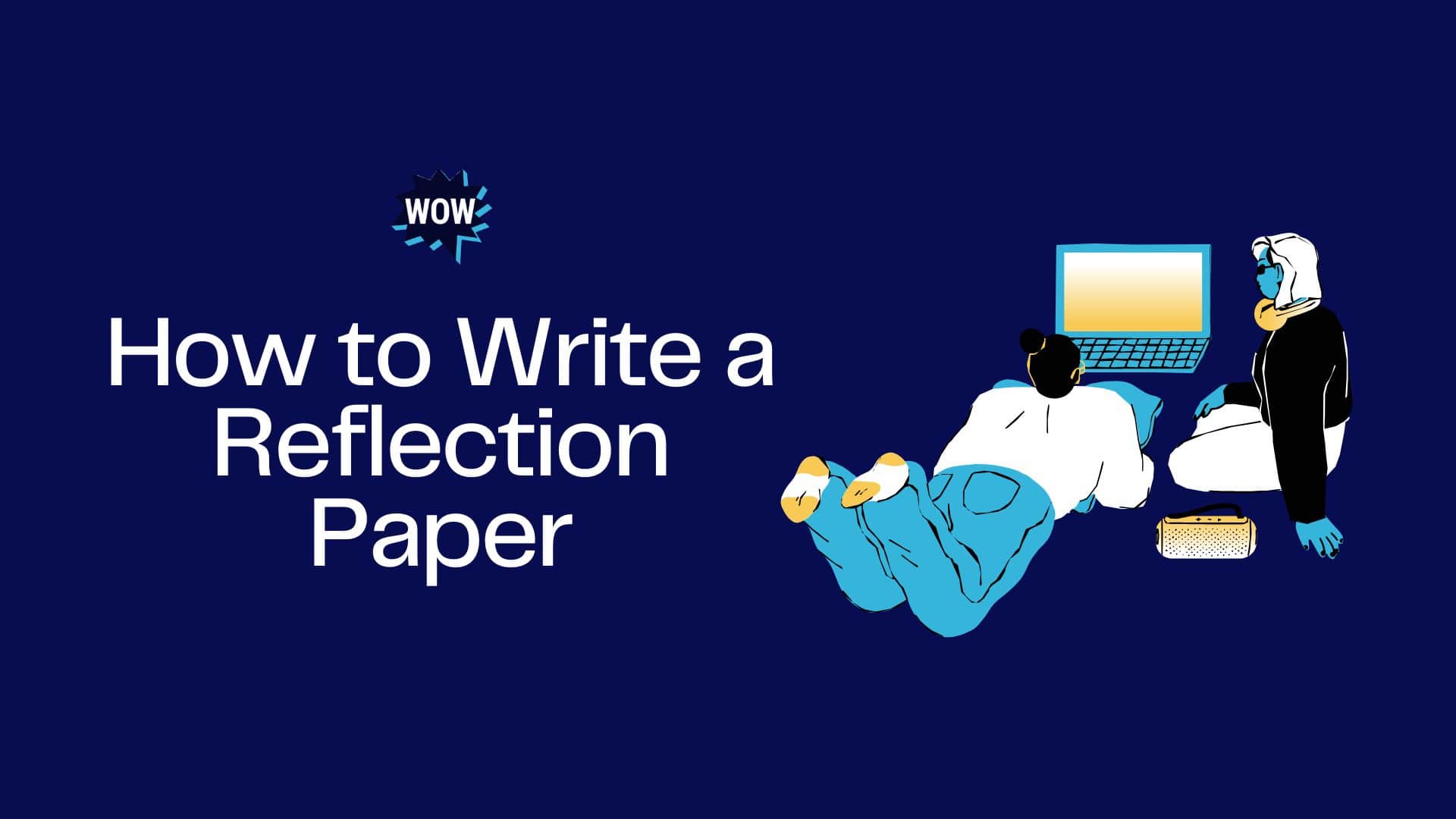 A reflection paper is an essay that allows students to express their personal views about a subject. This type of assignment is usually more free-form than other academic assignments and often doesn't require specific guidelines.
Reflection papers are a great way to practice critical thinking skills. These papers help students link theories to personal experiences and demonstrate how their perspectives were changed.
What is a Reflection Paper
A reflection paper is an academic essay requiring you to write about how something, like a book, experience, or lecture, has influenced your thoughts and opinions. Reflection writing is one of the unique types of academic writing, and it's a great way to express your views. First, decide on a topic you're passionate about or are well-informed about. It's important to think about your interests and ensure the topic is relevant to the course you're taking. Next, write an outline that helps you organize your ideas. It should include an introduction with your thesis statement, body paragraphs that explain your main points, and a conclusion. Throughout the paper, be consistent with your thesis statement, using logic and concrete details to support your arguments. For example, if you're writing about a book you read, include direct quotes and paraphrases to support your arguments. Keep your paper between 300 and 750 words, ensuring it's concise and clear. The final step is to proofread it to ensure no mistakes or shortfalls in your writing.
Tips on Writing a Reflection Paper
The key to writing a good reflection paper is to express your feelings about the subject organizationally and logically. A reflective essay should be written in the first person and follow a standard academic style. Reflection papers are often assigned in classes in the social sciences. They can be different in length but usually require less research than a traditional research paper. Organizing a reflection paper requires a lot of thinking and intentional self-analysis. This can be difficult for some students, especially if they're not used to doing this sort of analysis. Start by asking yourself questions about the subject and note your thoughts. Brainstorming can help you organize your thoughts before you begin writing and ensure that your writing stays focused. Next, examine the subject in depth and analyze what you learned from it. This can include integrating personal and academic contexts and discussing how the subject will be useful to you in your future career or life. A good reflection paper will have a thesis statement that states your main opinion on the topic. It should also have 2-4 arguments that support your opinion. You can then use quotes and passages from the source you're analyzing to support your points.
Reflection Paper Outline
A reflection paper outline can help you organize your thoughts and clearly understand what you've learned from reading or experiencing something. It should include an introduction that provides context for the topic you're writing about, a thesis statement, and body paragraphs that explain your points. Start by identifying a topic that is meaningful to you or your professor and likely to prompt a range of responses and emotions from your readers. You can then brainstorm to identify ideas and themes that can guide your reflection. You can also use an outline to identify the main arguments and counterarguments you'll make in your essay. Keep the APA format in mind when creating your outline, and ensure that each point you make is supported by relevant evidence. As with any essay, a good conclusion should summarize your findings and how you have changed due to the experience. It can also explain how the information you learned in class can be applied to your future learning and professional practice.
Reflection Paper for Your Inspiration
WowEssays Popular Essay Example
Increasing Surplus Product in an Economic System Essays Example
Ways of Increasing Surplus Product in an Economic System There are several approaches to increasing surplus products in an economy. The first approach is consuming less and saving more. If the government and households minimize consumption, there would be a rise in savings. Savings has been ascertained to fund global investments (Chen et al., 2017). Likewise, imports would reduce, and minimal borrowing will be required to support consumption. Therefore, an increase in savings will be used to fund the production of surplus products. Secondly, an increase in surplus products can be achieved by the depreciation of the currency …
Continue reading
Type of paper:Essay
Pages: 3
Words: 753
Good Essay On Alice Walker and Amy Tan
Aggressive Daughters Contrary to classical times, today's family tenets have significantly changed, especially the relationships between parents and their children. While the past involved absolute and unquestioned respect for parents by children, today's generation is increasingly becoming less obedient and more rebellious. It is the case with Alice Walker's Everyday Use and Amy Tan's Two Kinds. Walker's story describes an interaction among rural-based African American Johnson's family members. Dee, also called Wangero, the only formerly educated member of this family, demonstrates to her mother and younger sister, Maggy, the transformations …
Continue reading
Type of paper:Essay
Pages: 5
Words: 1177