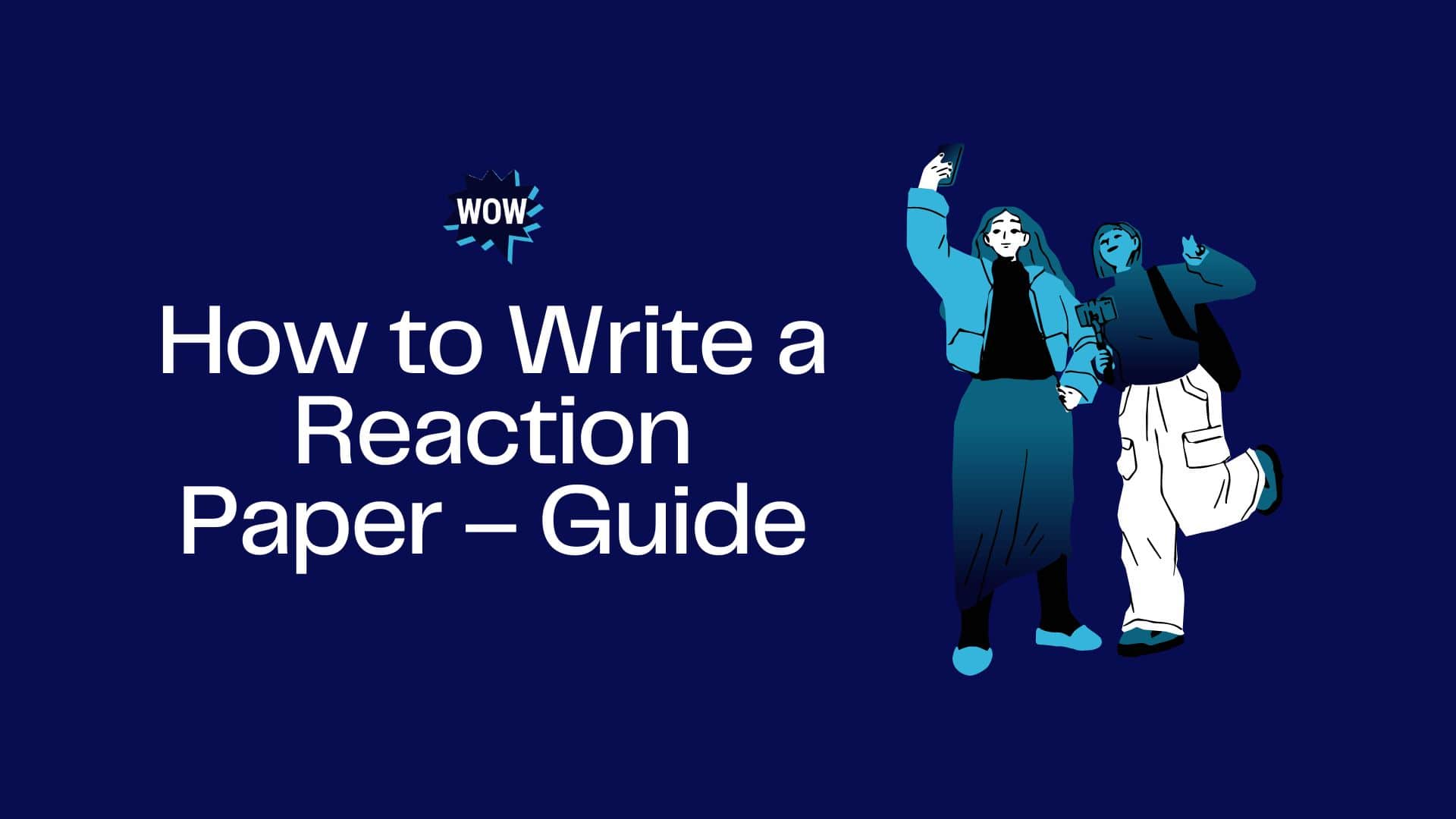 A reaction paper is an academic assignment that enables students to express their personal feelings about a specific article, painting, text, or film. Writing a reaction paper requires a solid understanding of the subject matter. Studying a text in depth allows you to form specific reactions, give informed commentary, and evaluate the presented claims effectively.
What is Reaction Paper
A reaction paper is a writing task that requires you to examine a text and give your opinion about it. The task is often part of an academic assignment, but the focus may differ depending on your course. To prepare for a reaction paper, read the source material multiple times and note your initial reactions. This will help you identify biases and preconceived notions that can be helpful in the analysis phase of your paper. Once you've identified your reaction, write down your main points and evidence. Be sure to back up your arguments with reliable sources and real-life examples. A strong conclusion ties the paper together without repeating statements or introducing new details. It also reinforces your thesis statement and explains the main points you analyzed in the body of your paper.
Reaction Papers Format and Structure
A reaction paper is a type of essay that requires students to read, think about, and analyze a particular text. It is a good way to develop critical thinking skills. A successful reaction paper has a strong thesis statement supported by evidence and facts. It also follows a clear format and structure, making it easy to read and follow. When writing a reaction paper, planning and organizing your thoughts and ideas is the first step. This involves drafting an outline to guide you throughout the process and ensure your thoughts are coherent and cohesive. The conclusion of your reaction paper should summarize the main points you analyzed in the body paragraphs and reinforce your thesis statement. It should also include an evaluation of your opinion about the article.
How to Write a Reaction Paper to an Article
Writing a reaction paper to an article is a complex academic assignment that requires precise format and structure. It also helps students to develop their writing skills and showcase their analytical work. To write a good reaction paper, select an appropriate perspective for your analysis. This will help you to focus your thoughts, offer insightful arguments, and stay on track. After you've selected a perspective, read the article several times. Doing so will help you identify any biases and preconceived notions that might be holding you back from writing a well-developed and meaningful paper. The body of your reaction paper should consist of topic sentences, supporting facts, and your personal opinion. These sections should be written logically and provide a thorough analysis of the article's content.
Tips to Write a Perfect Reaction Paper
If you are a student who needs to write a reaction paper, you might want some guidance on how to do it. The writing process is often confusing to beginners. The first thing you need to do is read the text or film you're assigned right after receiving it, so you can synthesize the information and develop a good reaction. Next, take notes as you read to capture your initial reactions and highlight any important occurrences. This will help you create an outline and stay within your word count. A good reaction paper should include a clear introduction, body paragraphs, and a conclusion. The introduction should introduce the author and the topic, while the body paragraphs should support your argumentative statement with facts and examples relevant to the subject.
Reaction Papers for Your Inspiration
WowEssays Popular Essay Example
Increasing Surplus Product in an Economic System Essays Example
Ways of Increasing Surplus Product in an Economic System There are several approaches to increasing surplus products in an economy. The first approach is consuming less and saving more. If the government and households minimize consumption, there would be a rise in savings. Savings has been ascertained to fund global investments (Chen et al., 2017). Likewise, imports would reduce, and minimal borrowing will be required to support consumption. Therefore, an increase in savings will be used to fund the production of surplus products. Secondly, an increase in surplus products can be achieved by the depreciation of the currency …
Continue reading
Type of paper:Essay
Pages: 3
Words: 753
Good Essay On Alice Walker and Amy Tan
Aggressive Daughters Contrary to classical times, today's family tenets have significantly changed, especially the relationships between parents and their children. While the past involved absolute and unquestioned respect for parents by children, today's generation is increasingly becoming less obedient and more rebellious. It is the case with Alice Walker's Everyday Use and Amy Tan's Two Kinds. Walker's story describes an interaction among rural-based African American Johnson's family members. Dee, also called Wangero, the only formerly educated member of this family, demonstrates to her mother and younger sister, Maggy, the transformations …
Continue reading
Type of paper:Essay
Pages: 5
Words: 1177