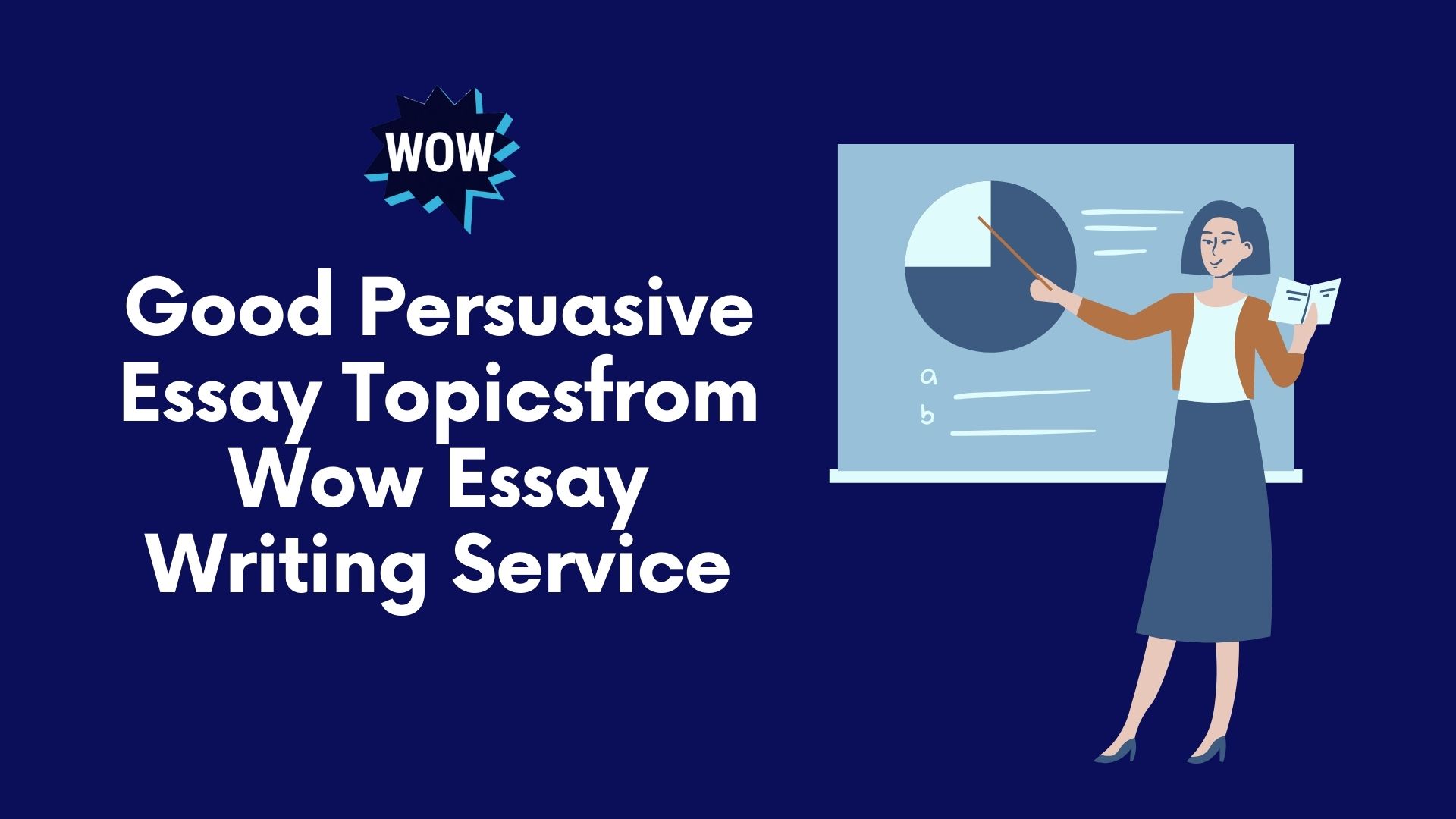 Like other essays, persuasive or argumentative essays include an introduction with the topic sentence, a body of supporting paragraphs, and a conclusion. However, the difference between a persuasive essay and other essays is that it is not simply information about great persuasive essay topics. It seeks to convince readers to agree with your argument. Coming up with good persuasive essay topics for college compatible with a good argument is the key to a successful persuasive essay. This article,
wowessays
provides a list of essay topics for which students received the highest college and university scores in this article.
What is a good persuasive essay topic?
Think of a time when you tried to convince someone of something. Maybe you wanted your parents to buy you a car or tried to convince a teacher to pass a higher grade or more time for an assignment. These are some examples of the use of persuasion, the act of trying to get someone to believe or do what you want. Persuasion is used in our lives every day. Think about the last time you watched television, listened to the radio, or drove down a busy street. Companies were trying to persuade you to buy their products, using advertisements and billboards. Many careers use persuasions, such as law, politics, sales, blogging, and publishing. So, knowing how to create, organize and write a paper of good topics for a persuasive essay is an important skill to develop.
Basics of the Easy Persuasive Essay Topics
If the professor has asked you to write a persuasive essay, first make sure you understand the assignment's requirements. You may be assigned to write on a specific topic, or the case may be open-ended. Remember that a two-page persuasive essay will not allow as much depth in your argument as a five-page essay. When you consider what to write about, think about the scope of your
wow essay
and ask yourself if your persuasive topic essay is broad or specific to fit requirements. Remember that although persuasive essays can be based on your opinion about something, you will need to research for facts that support your claim. Structure of persuasive essay:
The first paragraph of a persuasive essay is your chance to hook the reader. Use this opening to grab their attention right away and provide basic information about your topic. The highlight of your introductory paragraph is your thesis sentence, sometimes called a thesis statement. This sentence is your paper's central argument and will summarize your beliefs. Once you are clear on 'what' your mission is and 'how' you plan to convince the reader to agree with your point of view, you are ready to put this information into an introduction. Be sure to cut to the chase and save your engaging and supporting details for later. Suppose you want to convince readers that the minimum wage should be raised to $15.00/hour. That's your "what." You plan to back up your position with evidence of how a low minimum wage affects workers, their families, and society. Your statement would sound like this: "The minimum wage should be raised to $15.00/hour because paying workers a low wage has negative consequences for employees, families, and society." Do you see how you finished your argument, the 'what' of your idea, the things you will use to support it, the 'how' to create a framework for the rest of your article? Let's take a look at how this plays out.
Now that you have an excellent start to your essay, you should write a few paragraphs to support your position. How many sections you have will depend on how much evidence and facts you have to argue for or against the topic. Most essays have two to three paragraphs of support; more can be overwhelming, and less is often not enough. Take the "how" from your thesis statement and use it to build your paragraphs. In our example, the first reason we gave is a negative impact on the employee. Structure the first supporting paragraph on this statement, adding facts and details to develop a solid supporting piece. Bring in evidence in interviews, research or anecdotal notes, or your observations. Make sure they are accurate and not an extension of your opinion. Low pay hurts employees. Earning a low salary means that workers may not invest in their jobs. It can make the company run less efficiently and lead to high turnover, which costs the company money. Another negative impact on employees is that low wages can cause stress. When workers are stressed out… ' Continue in this way, writing down your thoughts and amplifying them with evidence. Do this for the following two or three paragraphs, breaking each 'how to' statement into its section.
Your summary is the final push to convince the reader that you are right. Think of it as your closing argument; you want to pull out all the stops and leave a good impression. Closing paragraphs have a predictable format: restate your thesis, the what, and the how. But now you've built up enough to include the important why facts. His final paragraph gives readers a summary and brings it all together.
How To Choose Best Persuasive Essay Topics?
When looking persuasive essay topic ideas, the best advice is to choose something you are passionate about and know a little about. Stay away from problems that you may not have experience with. For example, it may be more difficult for a young person to write an essay on raising the retirement age since they have no experience with retirement. Current issues are also a good choice, such as wages, equal rights, humanity issues, the environment, education, and employment. Take a stand on these issues and find plenty of evidence to support it. Pay attention to the issues you have strong reactions to, and quickly find one. If the instructor has not assigned a specific topic to write about, it is not difficult to find your topic. The most straightforward cases to write about are things you are interested in or passionate about. For example, if you love dogs, then "dogs" is a topic you can create many persuasive arguments to write about, such as "obedience training makes happier dogs" or "vegan diets are wrong for dogs." If your interests don't lend themselves to debate, good topics are always found in newspapers, magazines, and television. A great place to see examples of arguments is on the opinion or editorial pages. Current events are always great topics; for example, upcoming political elections, response to natural disasters, fads, lawsuits, and school rules are all topics with many possible arguments waiting to be made about them.
Persuasive Essay Topics for Students and Thesis
A topic is not the same as a thesis. It is simply a subject to write about. You must develop a thesis for this topic. For example, the instructor may assign a topic such as "pets." To make a discussion on this topic, you will need to research what aspects of this topic are subject to debate. Possible arguments for college persuasive essay topics could persuade readers that pet owners should spay and neuter their cats and dogs, or pit bulls are not dangerous animals. These are all specific arguments on the topic of "pets." You can check out a list of simple topics for persuasive essays:
More Topics for a Persuasive Essay
The best topics are of interest not only to you but also to your colleagues. Listen to what people are talking about, think about the opinions they express, and analyze your thoughts on these issues. Here is list of top persuasive essay topics that students write on most often:
WowEssays Popular Essay Example
In an effort to continue to be on top of the game, provide you with high quality representatives on various topics and keep our database up to date with the latest trends in the curriculum, our company is constantly updating our catalog with up-to-date works. Check out virtually up-to-date example downloads and apply them:
Ways of Increasing Surplus Product in an Economic System
There are several approaches to increasing surplus products in an economy. The first approach is consuming less and saving more. If the government and households minimize consumption, there would be a rise in savings. Savings has been ascertained to fund global investments (Chen et al., 2017). Likewise, imports would reduce, and minimal borrowing will be required to support consumption. Therefore, an increase in savings will be used to fund the production of surplus products. Secondly, an increase in surplus products can be achieved by the depreciation of the currency … Continue reading
Type of paper:Essay
Pages: 3
Words: 753
Aggressive Daughters
Contrary to classical times, today's family tenets have significantly changed, especially the relationships between parents and their children. While the past involved absolute and unquestioned respect for parents by children, today's generation is increasingly becoming less obedient and more rebellious. It is the case with Alice Walker's Everyday Use and Amy Tan's Two Kinds. Walker's story describes an interaction among rural-based African American Johnson's family members.
Dee, also called Wangero, the only formerly educated member of this family, demonstrates to her mother and younger sister, Maggy, the transformations … Continue reading
Type of paper:Essay
Pages: 5
Words: 1177