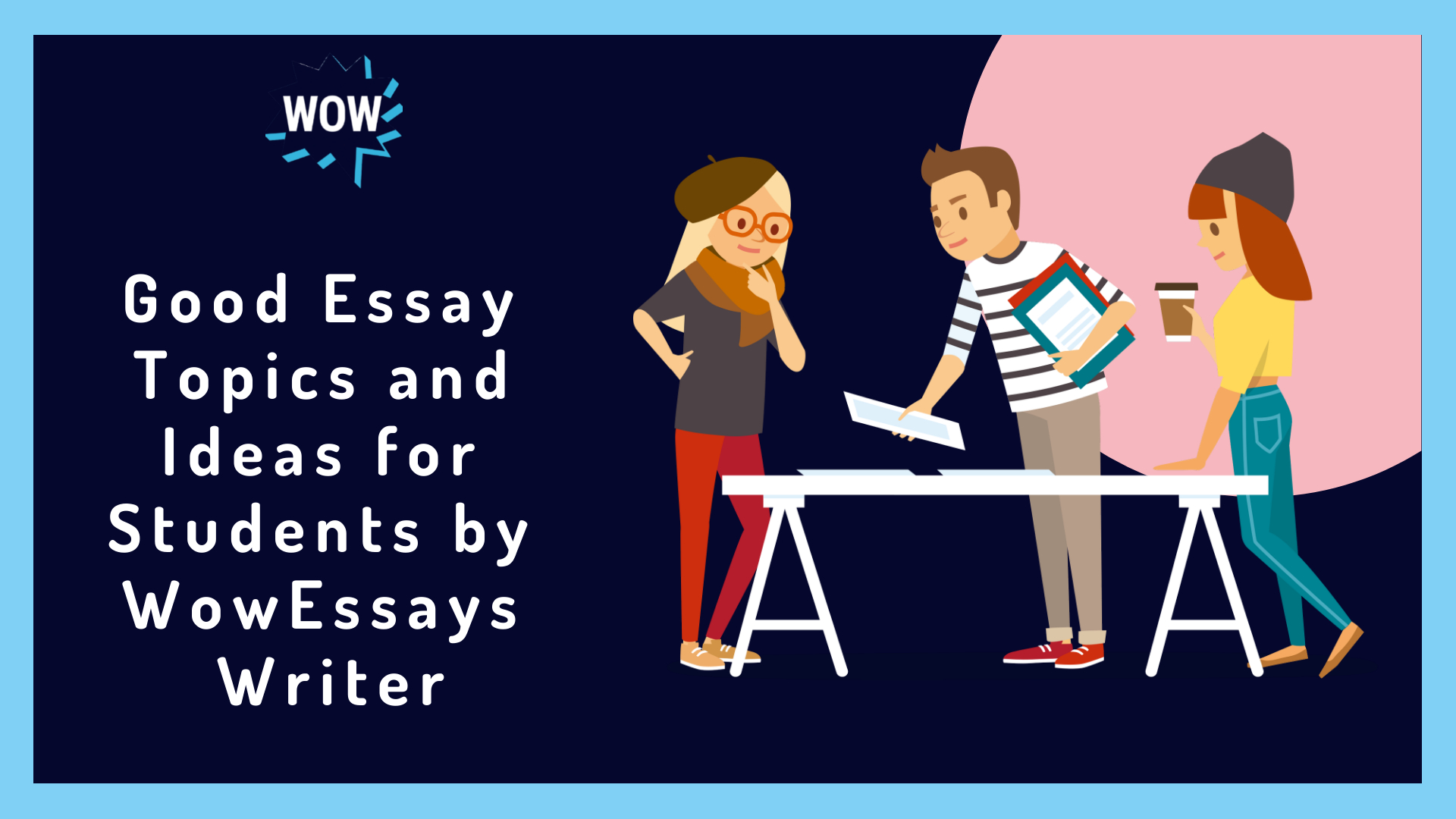 Choosing an essay topic can be a stressful process, especially when it is academic. You will need to make sure that you have a lot to say about the topic and are interested in it, as it will be a long paper to write. While it may seem challenging to decide on good essay topics for college, you will soon realize that it is better than being given a topic by the professor. This way, you will have a bit of freedom to take any direction you want. If you are stuck in a situation where you can't choose a topic for writing a good college essay, you can go to websites like
wowessays
or follow these tips we have listed for you. Also, we offer you a large number of sample essays that have been sorted into categories:
Make Sure the Good Topic for Essay in College Interests You
It is an excellent opportunity to write about something you are passionate about or interested in. Often, professors will give topics for writing a good college essay of what the essay should be about, and then you are free to limit yourself to something related to the topic. For example, if the topic is gender portrayal in the media, you can choose a topic based on your favorite TV show and write about gender portrayal in it. So, it is crucial to choose something that you know something about, because then not only will the writing part be fun, but you will also have a lot to say. Once you choose a topic to write your essay, make sure that your professor also runs it so that they can let you know whether it is okay to write about it or not. Find sources that can back up your arguments as faithfully as possible. For an academic essay, sources are the backbone of everything. Now that you have a topic that interests you before you finalize it, do some research on what sources you can find. Professors generally prefer sources that are cited from academic literature rather than blogs and online sources. Once you can find 4-5 quality sources that can support your arguments, you are ready.
Avoid Too Vague College Essay Topics
The last thing you want to do when writing an essay is to be general and vague. Academic papers have a lot to do with focusing on a particular topic, so it requires research. That is why you need to make sure that your good essay topics for college aren't generally because you will not be too specific that way.
You want to make sure that you use concrete examples and very relevant to what you are talking about. It is also something that your professor can point out when you read the topic. You can read such examples and then write a good essay for which you will get the highest score:
Evaluate a Selected Good College Essay
After selecting good topics for essay writing for college essay, evaluate each one to see how meaningfully you can cover them. Do you have interesting observations and ideas about the case, can you surprise the reader with something, and are you inspired to talk about the subject? You must understand that you will have to formulate a specific thesis statement and then prove it reasonably in your work. Will you be able to do this for your chosen topics? What are your trump cards? When exploring the potential of a personal essay topic, pay attention to the availability of literary sources. In some cases, it is more logical to find the necessary information in the seeds and then formulate your thoughts on paper. If the instructor has demanded the agreement of the topic with him, be sure to show him the work plan, the essay's central thesis, and arguments to support it.
What are Good Essay Topics for College Essays?  
Here are some topics that could be very important for essay writing in 2022. However, it would be essential to delve into them to help you decide on the subject of your text. Politics is one of the central topics that just about anyone can write about. For a good college essay, you can make a paper on the following topics: degree of corruption, inequality in access to rights worldwide, hunger, and poverty left by poor national and international cooperation on most continents. It has even led to various social and political conflicts. In regions such as Africa, Latin America, and Asia, they have shown the fragility of the political systems in these places. And although many of them are called democracies, they have demonstrated a solid tendency to tighten their policies. Below you can find a more detailed list of topics from
wowessays
for writing essays on political topics::
Good Persuasive Essay Topics for College
For college students, choosing persuasive topics for a good college essay are also challenging. The ability to write a persuasive essay is an essential skill that people use every day, from business to law to media to entertainment. In our list, you're sure to find a topic that interests you from the list below of 33 persuasive essays, sorted by difficulty:
WowEssays Popular Essay Example
In an effort to continue to be on top of the game, provide you with high quality representatives on various topics and keep our database up to date with the latest trends in the curriculum, our company is constantly updating our catalog with up-to-date works. Check out virtually up-to-date example downloads and apply them:
Increasing Surplus Product in an Economic System Essays Example
Ways of Increasing Surplus Product in an Economic System There are several approaches to increasing surplus products in an economy. The first approach is consuming less and saving more. If the government and households minimize consumption, there would be a rise in savings. Savings has been ascertained to fund global investments (Chen et al., 2017). Likewise, imports would reduce, and minimal borrowing will be required to support consumption. Therefore, an increase in savings will be used to fund the production of surplus products. Secondly, an increase in surplus products can be achieved by the depreciation of the currency …
Continue reading
Type of paper:Essay
Pages: 3
Words: 753
Good Essay On Alice Walker and Amy Tan
Aggressive Daughters Contrary to classical times, today's family tenets have significantly changed, especially the relationships between parents and their children. While the past involved absolute and unquestioned respect for parents by children, today's generation is increasingly becoming less obedient and more rebellious. It is the case with Alice Walker's Everyday Use and Amy Tan's Two Kinds. Walker's story describes an interaction among rural-based African American Johnson's family members. Dee, also called Wangero, the only formerly educated member of this family, demonstrates to her mother and younger sister, Maggy, the transformations …
Continue reading
Type of paper:Essay
Pages: 5
Words: 1177