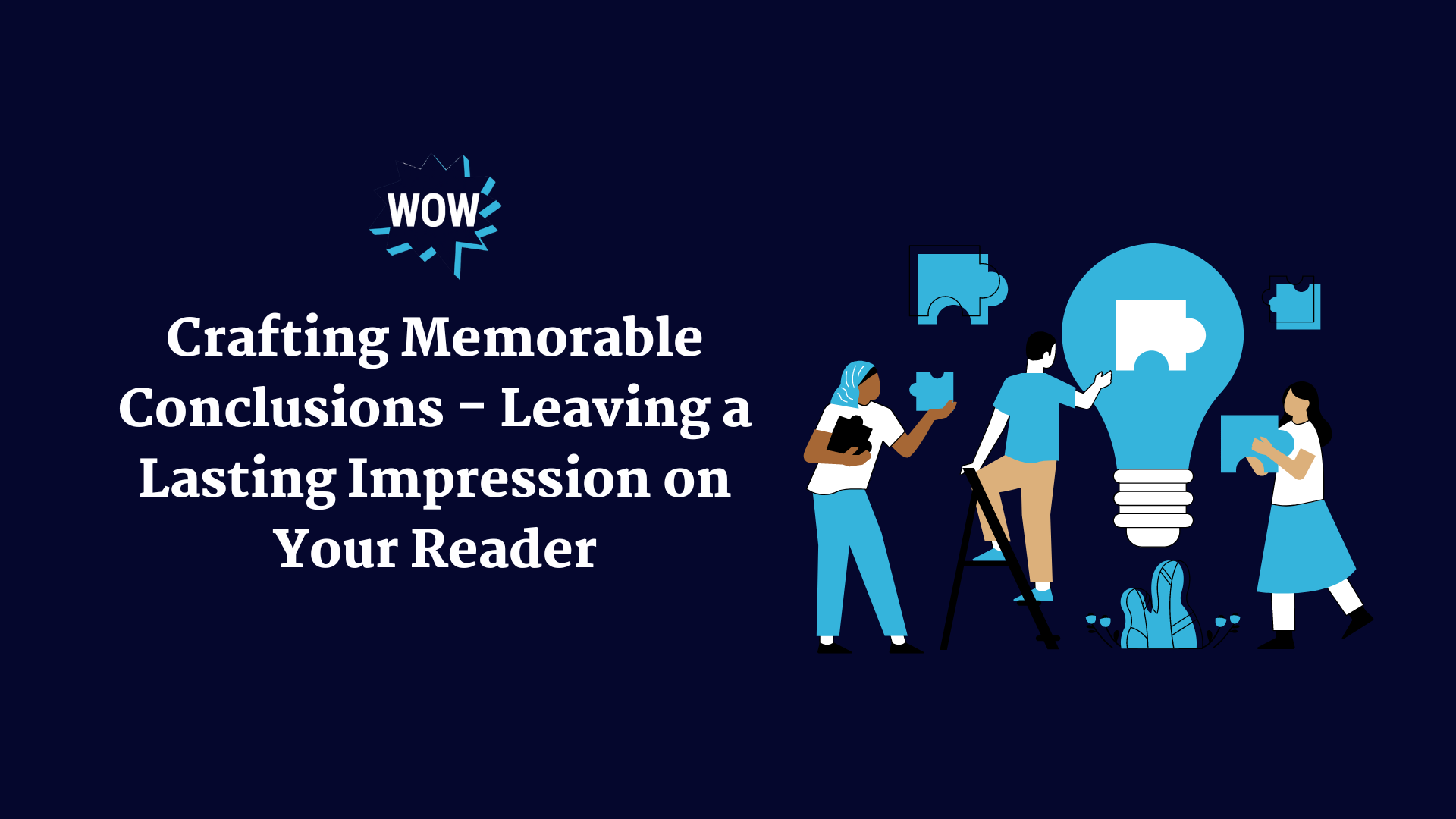 Have you ever read an article or essay and felt unsatisfied with its conclusion? A well-crafted conclusion can make your writing more impactful.
Consider highlighting the broader implications of your research or topic in your conclusion to add an extra punch to your essay. You can also use thought-provoking quotes or inspiring anecdotes to evoke emotions and leave a lasting impression on your reader.
Essays Examples with Good Conclusion
Relevance
Whether it's the cream cheese frosting on a red velvet cupcake, or the final whipped topping on your shake, a strong conclusion is like a cherry on top of an otherwise solid dessert. The finishing touch makes your writing stand out and gives it a powerful impact.
A good way to make your conclusions more effective is by making them relevant. In other words, tie your main arguments back to the topic of the article or essay. This adds depth to your piece and ensures the reader will remember it.
This can be done by incorporating anecdotes, questions, or provocative quotes to grab readers' attention and inspire them to take action. It also helps to appeal to the reader's emotions by describing the potential gains or losses they could experience by taking your advice or adopting your viewpoint. This will leave a lasting impression on the reader and drive home your point.
Call to Action
In your conclusion, provide a call to action your audience can respond to. Ideally, the action you suggest should be one that can be started quickly and easily. The more difficult the action, the more likely your audience will lose motivation.
Incorporating a thought-provoking insight or relevant quote into your conclusion can leave your audience thinking about the topic long after reading your article. You can also inspire your audience to apply your ideas to their own lives or consider broader implications of the topic you're writing about.
Don't include random facts or information in your conclusion that weren't discussed throughout the rest of the essay. This is known as the grab bag conclusion, and it can confuse your audience.
Use humor to engage your audience in your concluding paragraph, but be sure to incorporate it appropriately and don't make any jokes that may offend your readers. This strategy will help you build a stronger connection with your audience and make them remember your article.
Provocative Quote
Writing an effective conclusion is often seen as a challenging task. However, with some thoughtful preparation and a few key strategies, you can construct a concluding paragraph that leaves a lasting impression on your readers.
For example, if your essay is on the topic of human rights, consider ending your paper with an eye-catching quote that speaks to that issue. You can also add a little humor to your conclusion in order to engage and entertain your audience. However, it is important to remember that your conclusion should be coherent with the rest of your paper.
Additionally, it is important to leave your reader with a call to action. This can be as simple as asking them to share your article on social media or as complex as encouraging them to support a specific cause or change their behavior. Whatever your call to action is, make sure it is clear and concise in order to get the best results.
Closure
A good conclusion paragraph brings your essay or paper to a close while leaving a lasting impression on your reader. It accomplishes this by reiterating the main points, establishing a clear narrative arc, and providing closure.
A conclusion should also help your readers to make the transition back to their everyday lives after being transported into the place of your analysis through your introduction and immersed in your methodologies, analyses, and results. This can be accomplished by directing your readers to take action or reflect on their own experiences, and may even suggest avenues for further research.
A good strategy for writing a memorable conclusion is to include a link to your introductory paragraph in order to create a full-circle narrative and establish a sense of cohesion throughout your piece. Alternatively, you can also amplify your main point or present it in a different perspective to help your readers see things from a fresh angle.
WowEssays Popular Essay Example
Increasing Surplus Product in an Economic System Essays Example
Ways of Increasing Surplus Product in an Economic System There are several approaches to increasing surplus products in an economy. The first approach is consuming less and saving more. If the government and households minimize consumption, there would be a rise in savings. Savings has been ascertained to fund global investments (Chen et al., 2017). Likewise, imports would reduce, and minimal borrowing will be required to support consumption. Therefore, an increase in savings will be used to fund the production of surplus products. Secondly, an increase in surplus products can be achieved by the depreciation of the currency …
Continue reading
Type of paper:Essay
Pages: 3
Words: 753
Good Essay On Alice Walker and Amy Tan
Aggressive Daughters Contrary to classical times, today's family tenets have significantly changed, especially the relationships between parents and their children. While the past involved absolute and unquestioned respect for parents by children, today's generation is increasingly becoming less obedient and more rebellious. It is the case with Alice Walker's Everyday Use and Amy Tan's Two Kinds. Walker's story describes an interaction among rural-based African American Johnson's family members. Dee, also called Wangero, the only formerly educated member of this family, demonstrates to her mother and younger sister, Maggy, the transformations …
Continue reading
Type of paper:Essay
Pages: 5
Words: 1177